Building a Resilient Economy
Analysing options for systemic change to transform the world's economic and financial systems after the pandemic.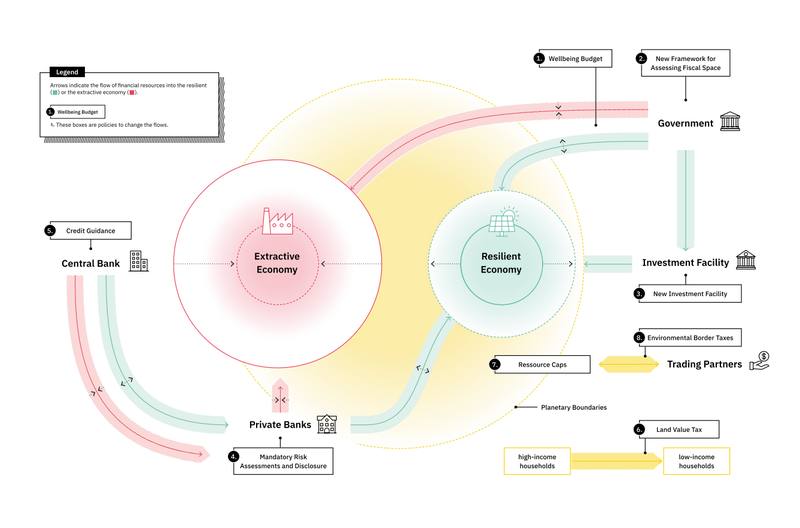 Bonn, 14.01.2020: ZOE published a new report commissioned by WWF UK that aims to define how the UK government can deliver systemic change to build a resilient economy. The report can serve as a basis to define the criteria for systemic change in economic policymaking around the world and presents a condensed set of ideas to ensure environmental and social resilience.
In a world of increasing complexity, the authors outline where public policymakers should place the emphasis in order to transform the world's economic and financial systems most effectively to mitigate future environmental crises.

Based on a comprehensive literature review, the report proposes a set of policies the UK government could implement to amplify impact and ensure long-term systemic change – both for its domestic economy and at an international level. The report uses three key criteria to identify the most promising policies:
Relevance: their relevance and topicality in the UK context.
COVID-19 suitability: the extent to which they could support a sustainable economic recovery from COVID-19.
Transformative potential: the impact they have on driving long-term systemic change.
There is no 'silver bullet' solution to the multiple crises faced by policymakers today, and many changes will be required, involving governments, investors, businesses and the public alike – so the policy package the report outlines presents a blueprint to deliver systemic change in the current policy context. It should be regarded as a basis for discussion to demonstrate the scale, nature and interlinkages of the changes required. For each of the policies the report provides a short overview about key aspects and an strategic assessment:
Wellbeing Budget
Modernising UK's fiscal rules
New National Investment Authority
Mandatory financial risk assessments and disclosure
Green Credit Guidance
Land value tax
Resource caps and biodiversity
Environmental border tax